Shotshell Ammunition
Shotshell
Firing a shotshell is a physical and chemical chain reaction that takes place in a split second.
The firing pin strikes the primer, igniting the primer compound.
The flame ignites the powder charge, which burns rapidly, creating a high volume of gases.
The gases under pressure will expand to the muzzle, seeking the least resistant path to expansion.
Because the wad and shot are between the gases and the muzzle, the gases push the shot and wad along.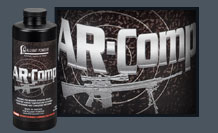 AR-Comp – Your Dedicated AR Powder
Engineering for fast cycling, high-volume semi-automatic rifles. Learn more »
Learn to Reload
Interested in learning how to reload your own ammunition? Get started now »